THE DEAL II
ARBITER
And who better to assist them than the world champion?

WALTER
And so, you can't lose. They've been doing all they can to beat you, unfairly, Freddie - remember the yogurt? Now you can do it to them! I'm sure you'll find a chance to remind Anatoly how he'll wreck Florence's life if he wins! Good boy!

(Walter exits, Anatoly enters.)

ARBITER
I SEE NOTHING OTHER THAN A SIMPLE BOARD GAME.


FREDDIE (to Anatoly)
COMMUNIST/DEMOCRAT

ANATOLY
AN INTRIGUING COLLUSION

FREDDIE
FAIR EXCHANGE -TIT FOR TAT

ANATOLY
COMRADESHIP IN PROFUSION

FREDDIE
AND THE APPEAL, PARTNER
OF THIS DEAL, PARTNER
IS WE BOTH STAND TO WIN
YOU AND ME, THE LADY ALSO
DON'T BREAK HER HEART, PARTNER
JUST BE SMART, PARTNER
MY ADVICE: WALK AWAY
NOTHING MATTERS MORE THAN SHE DOES.

THANK GOD WE'RE SO CIVILIZED
AND OUR WORD CAN BE OUR BOND
WE CAN TURN THIS INTO FRIENDSHIP FOR LIFE
And beyond -

(Freddie's delivery has been sarcastic but maybe he is actually trying to do something for Florence as much as for himself. Anatoly is disgusted.)

ANATOLY (indicating himself)
REFUGEE
(indicating Freddie)
TOTAL SHIT
IS THE WAY THAT I SEE US
NOT A HELP, YOU'LL ADMIT
TO AGREEMENT BETWEEN US
THERE'S NO DEAL, PARTNER
WHO'S YOUR REAL PARTNER?
MAYBE THERE'S JUST A CHANCE
THAT YOU'VE GOT SOME HEAVY CLIENTS?

(Walter and Molokov appear in shadows on balconies.)

FREDDIE
THAT'S NOT TRUE, PARTNER
I'M WITH YOU, PARTNER
THINK THAT I'D WANT TO BE
PART OF ANY RED ALLIANCE?

HOW CAN YOU ONLY THINK
OF YOUR SELFISH AMBITION?
AND NOT OF HER POSITION?
OR YOU'D RATHER PERHAPS
SEE HER WORLD COLLAPSE
FOR A TINPOT COMPETITION?

ANATOLY
There's no deal!


FLORENCE
WHEN I WAS YOUNG I LEARNED SURVIVAL
TAUGHT MYSELF NOT TO CARE
TOLD MYSELF MOST THINGS DIDN'T MATTER
JUST BECAUSE THEY WEREN'T THERE
HOW CAN A HALF-REMEMBERED CHILDHOOD
AND SOME TALK OF A MAN THAT I BARELY KNEW
TOUCH ME THE WAY THEY DO?
PITY THE CHILD WHO COPED WITH DEATH, AGED FIVE
JUST IN CASE HE'S ALIVE --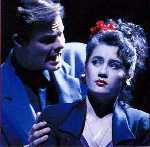 FREDDIE (indicating himself; interrupting her thoughts)
SILLY BOY
(indicating Florence)
WOMAN WHO
I SHOULD NOT HAVE LET WALK OUT
THERE'S NO HITCH THAT WE TWO
CAN'T UNTANGLE OR TALK OUT
AND THE APPEAL, PARTNER
OF THIS DEAL, PARTNER
IS WE BOTH STAND TO WIN
IF YOU TELL HIM NOT TO BE THERE!
NOT TO SHOW, HONEY
THEN WE'LL KNOW, HONEY
WE CAN BE WHAT WE WERE
NOTHING MATTERS MORE THAN WE DO!

FLORENCE
CAN'T YOU SEE WE'VE MOVED ON?
YOU STILL DON'T UNDERSTAND WHY I LEFT YOU!

FLORENCE & FREDDIE
WHO'D EVER GUESS IT?
THIS WOULD BE THE SITUATION
ONE MORE COMPLICATION
SHOULD BE NEITHER HERE NOR THERE
I WISH I HAD IT IN ME NOT TO CARE.

ANATOLY
NOW IT'S ALL CRYSTAL CLEAR
SOMETHING BETTER BEGINNING
WHO TO BEAT, WHERE TO MOVE
WHAT I'LL LOSE IN THE WINNING --

FLORENCE
THIS IS MY FATHER'S LIFE
DO YOU KNOW WHAT YOU'RE SAYING?
WHEN YOU WIN I SHALL LOSE
DO YOU KNOW WHY YOU'RE PLAYING?

ALL (including SVETLANA)
WHO'D EVER THINK IT?
NO ONE MAKES THE MOVES INTENDED
TILL THE GAME IS ENDED
THEN THEY SAY I TOLD YOU SO
I'M LEARNING THINGS I DIDN'T WANT TO KNOW.

(Arbiter appears on balcony)

ARBITER/WALTER MOLOKOV
EVERYBODY'S PLAYING THE GAME
BUT NOBODY'S RULES ARE THE SAME.

ALL
NOBODY'S ON NOBODY'S SIDE
EVERYBODY'S PLAYING THE GAME
BUT NOBODY'S RULES ARE THE SAME
NOBODY'S ON NOBODY'S SIDE.