LET'S WORK TOGETHER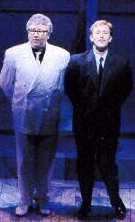 ARBITER
I SEE NOTHING OTHER THAN A SIMPLE BOARD GAME...

And now two of the most powerful players make a midgame assessment...

(Walter & Molokov, as if in a lavishly appointed gentlemenís convenience.)

WALTER
YOU SHOULD HAVE SEEN HOW SHE REACTED
I COULDN'T LEAVE 'TIL SHE'D EXTRACTED
PROMISES SHE WOULD SEE HER FATHER
SIMPLE, I SAID.
I TOLD HER THE WAY SHE COULD ACHIEVE THIS
EVEN THOUGH YOU MIGHT NOT BELIEVE THIS
SHE SAID THAT I WAS NOT TO WORRY
GO RIGHT AHEAD.

MOLOKOV
YOU DON'T KNOW HER WELL, SHE COULD HAVE FOOLED YOU
SHE COULD SPITE HERSELF AND RESIST US.

WALTER
I DON'T THINK I'M WRONG, BUT LET'S BE CERTAIN
THERE ARE OTHERS WE CAN CALL IN TO ASSIST US...


MOLOKOV
THERE COMES A TIME WHEN WE SHOULD POOL RESOURCES
COULD BE THE ANSWER TO OUR NATIONS' PRAYERS --

WALTER
THERE COMES A MOMENT WHEN THE ONLY COURSE IS
TO USE OUR SAVOIR, NOT OUR LAISSEZ FAIRES

BOTH
WE DO OUR BEST WORK WHEN WE HUNT IN PAIRS.

LET'S WORK TOGETHER AND THE WORLD IS SAFER
THE BERLIN WALL BECOMES A BACKYARD FENCE
AND OUR COOPERATION PAVES THE WAY FOR
OUR PRIME TIME LEADERS AND THE MAIN EVENTS
BEHIND THE SCENES WE SHOW SOME COMMON SENSE
A LITTLE MUTUAL CONVENIENCE
LET'S WORK TOGETHER

WALTER
COMRADE!
MOLOKOV
BUDDY!

BOTH
IT'S OUR BEST DEFENSE!