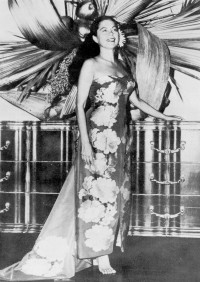 AGGIE AULD
One of Hawaii's most revered hula stylists, Agnes Leilehua Auld was given her Hawaiian name (Kaonohimakaokalani) by Queen Liliuokalani at her baby luau (a Hawaiian tradition, it's a party for a child's first birthday). Her father served in the Territorial House of Representatives and the family is related to the Beamer family. Her mother collaborated on the composition of a chant, "Makalapua," for the queen.

Born in Honolulu, Aggie graduated from Punahou School and studied ballet, modern and oriental dance at Denishawn Dance Studio. But hula was her primary focus and she was honored to dance for Prince Kuhio and Princess Kalanianaole. She joined Prince Leilani's (Edward Marcus Rose) troupe and toured widely, becoming the toast of the Orpheum circuit, and danced at the famed Roxy Theatre in New York.

While on the mainland, she appeared in films with Bette Davis, Big Crosby, Bobby Breen (Hawaii Calls) and Dorothy Lamour. She choreographed ice skater Sonja Heine's hula-on-ice for one of her films. She married Prince Leilani and they returned to Honolulu, where she introduced her signature hula, "Lovely Hula Hands" at the Royal Hawaiian Hotel (she actually danced it the first time at an Outdoor Circle benefit at McKinley High School). Her photo graces the original sheet music of the song. Always an innovator, she was the first to dance behind a scrim in silhouette and popularized the cellophane skirt.

During the war, she entertained the troops and taught hula in Los Angeles. She also composed, with her second husband Norman Hendershot, the still-popular "Hula Lo-Lo."


Biographical material from Tony Todaro, The Golden Years of Hawaiian Entertainment (Tony Todaro Pub., 1974).