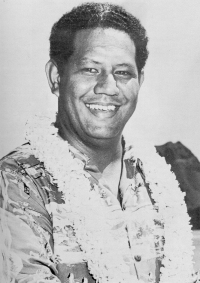 BILL AKAMUHOU
William Akamuhou Dias was born in Nawiliwili, Kauai. In the 1930s he played with Rapoza Bros. in Kauai and then became a regular on Hawaii Calls in 1940. In the navy during the war, he formed a group called the Nautical Hawaiians, who gave a command performance for President Roosevelt at Pearl Harbor in 1944.

Later, he performed at Queen's Surf, led the orchestra at the Royal from 1948 to 1953, when he became the highest paid entertainer in Hawaii. and on the radio. He was an accomplished musician, composer, singer, band leader and comic dancer. Among his compositions are 'Sing Hawaii Sing' and 'When Clouds Muffle the Moonbeams.' He was called the 'Hawaiian Scotsman' for his memorable rendition of the Sol K. Bright hit, wearing full Scottish regalia.



Biographical material from Tony Todaro, The Golden Years of Hawaiian Entertainment (Tony Todaro Pub., 1974).