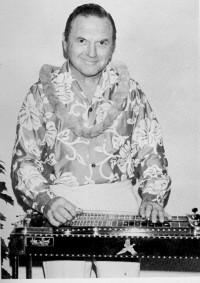 JERRY BYRD
Gerald Lester Byrd was born in Lima, Ohio, and became one of the most renowned steel guitarists in the entertainment business, after buying his first instrument by mail order! He soon formed his first Hawaiian-style band. He performed several gigs in Dayton and Chicago before joining Ernest Tubb in Nashville.

Jerry organized the Pleasant Boys and did radio broadcasts in Cincinnati until 1951 and recorded his first Hawaiian album, Shores of Waikiki with four other Hawaiian musicians. Jerry kept one foot in the country music scene, working with Chet Atkins and served as musical director of the Grand Ole Opry.

The Byrds finally migrated to Hawaii in the late 1960s and immediately joined Danny Kaleikini's show at the Kahala Hilton [Now Kahala Mandarin]. He also appeared on many Hawaii Calls shows and at Waikiki's Blue Dolphin nightclub.



Biographical material from Tony Todaro, The Golden Years of Hawaiian Entertainment (Tony Todaro Pub., 1974).