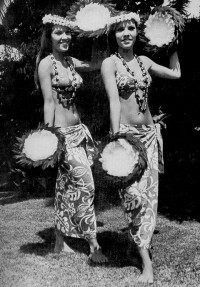 BEVERLY & EVELYN CALDWELL
The Waikiki Twins
The Los Angeles-born sisters were only 3 years old when introduced by Aunty Clara Inter in her show at Wislin's Hawaii nightclub on the Sunset Strip.

Later, they appeared with Don Ho at the Carrousel, at the Coconut Grove in Los Angeles [Notice how all these wonderful clubs are GONE! Ed.], and guested at Waikiki's Duke Kahanamoku's, Disneyland, Caesar's Palace in Vegas, and were featured dancers with the Ernie Menehune Show.

They were also active as models, and introduced Tanya suntan lotion as the 'Tanya Twins,' and were seen in ads for Hawaiian Punch and American Airlines.



Biographical material from Tony Todaro, The Golden Years of Hawaiian Entertainment (Tony Todaro Pub., 1974).