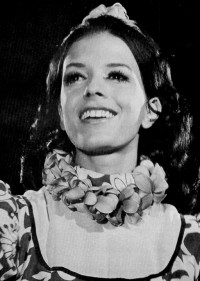 MARTHA CARRELL
A versatile hula dancer and TV producer/writer, Martha Carrell toured Japan, danced at the Hotel Lexington in New York, performed at the 1964 World's Fair, then continued on to perform in Puerto Rico, Toronto, and then in 1965, toured the west coast with Martin Denny.

A true ambassador of aloha, Martha made more friends for Hawaii with the Hawaii Visitors Bureau tours of Holland, the promotional tour for the United Artists film Hawaii, appeared in the 'Luau 68' show at Radio City Music Hall, the Bali Hai club in New York, the Hukilau restaurant chain in Mass., then came home to perform with Charles K. L. Davis at the Ilikai Hotel, then at the Halekulani, the Ala Moana, and with the Boyce Rodrigues show. Continuing her circuit of Waikiki, she danced at the Princess Kaiulani and Hawaiian Village Hotels.

She then became promotions manager for Hawaii's PBS station, KHET, and produced and wrote a series of programs called Mele Hawaii which were shown nationwide in 1974.

She also modeled for United Airlines, Carling Black Label, Northwest Orient [now Northwest] Airlines, and American Express.



Biographical material from Tony Todaro, The Golden Years of Hawaiian Entertainment (Tony Todaro Pub., 1974).