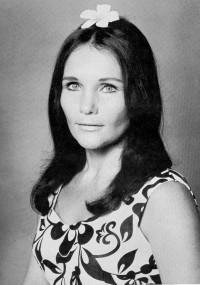 IRENE CHENEY
Ms. Cheney's route to Hawaii was rather unique. Born in Pocatello, Idaho to Signe and Max Christensen, she's not only a gifted Hawaiian singer, dancer and musician, she was a championship swimmer--all things one does not associate with Idaho.

Her family learned Hawaiian music from old recordings and the old King and Nobel songbooks and was so successful, they played at a Hawaiian restaurant in Salt Lake City and then earned passage to Hawaii by performing on the President Line's S. S. President Wilson.

With her five children, she formed a Cheney family group and recorded an album. She appeared at the Kahala Hilton [now Mandarin], the Royal, the Princess Kaiulani, the Outrigger Canoe Club and many nightclubs.



Biographical material from Tony Todaro, The Golden Years of Hawaiian Entertainment (Tony Todaro Pub., 1974).