Despite a widespread reputation for his raucous delivery of comic hapa haole songs and as a entertainer second to none, Charley Davis was an intellectual, serious musician and a true professional. Born in Honolulu in 1925, he grew up in Waialua and music was a part of daily life in his family. At an early age, he was accomplished as a singer and played piano, cello and pipe organ. His schooling was stellar, interrupted by the war, then completed at the famed Julliard School of Music in New York.

After school, he and actor/singer James Shigeta formed a duo, and opened at the Sunset Strip's Mocambo nightclub to raves. They toured the big cities until Shigeta was drafted. Undeterred, Charles went to New York and was the first Hawaiian to win the Metropolitan Opera auditions. He toured Russia with opera star Rise Stevens under the auspices of Ed Sullivan, did a command performance at the White House, and co-starred with Patrice Munsel in My Fair Lady on Broadway. He toured with a number of famous opera companies.

January 19, 1968 was proclaimed 'Charles K. L. Davis Day' in Honolulu and he performed to a packed house at the HIC concert hall. Eventually, he left it all behind and performed for many years at Kemoo Farms near Schofield Barracks, delighting crowds with his prodigious memory for the most obscure lyrics, always ready with a joke or a bawdy tune. Despite his operatic beginnings, he probably knew every hapa haole and Hawaiian song ever written. His speciality at Kemoo Farms were the pidgen/oriental songs of the 20s and 30s. Sadly, only one CD of his work is currently available, Aloha (Lehua SLCD 7058), but it covers his wide range from Sir Noel Coward to Queen Lili'uokalani to a pidgen English gem.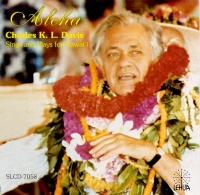 Biographical material from Tony Todaro, The Golden Years of Hawaiian Entertainment (Tony Todaro Pub., 1974), Davis's CD and personal knowledge.