One of 13 children, Irmgard Farden Aluli was born in Lahaina on Oct. 7, 1911. Her father, Charles Kekua Farden, worked on a plantation but also reared a musically talented family. Aluli's parents, brothers, sisters and other relatives all were gifted musicians, playing the piano, saxophone and violin, among other instruments.

Aluli began composing in 1935 while she worked as a field agent for the University of Hawaii Agricultural Extension Service on Molokai. Her first song, "Down on Maunakea Street," depicted a woman selling lei in Honolulu. "Puamana" was her first hit song and tells a story of her life in her happy home of Puamana, Maui. She composed the tune in five minutes in 1938. "The tune just came one morning while I was at home sitting at the piano," Aluli once told the Honolulu Star Bulletin. Her father and five sisters helped put Hawaiian lyrics to the song.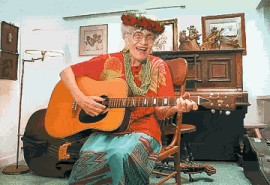 Aunty Irmgard, as she was widely known in the Islands, wrote more than 400 songs, including 'E Maliu Mai' and 'Laupahoehoe Hula,' and in 1980 she organized a group called Puamana, which included daughters Mihana and Aima and a niece, Luana, which played for many years at the popular and atmospheric restaurant, The Willows, in Moilili.

In 1925, Aluli attended boarding school at St. Andrew's Priory. She graduated from the University of Hawaii in 1933. At the UH and Molokai and Washington intermediate schools, she taught home economics.

Later, she became a member of the Annie Kerr Trio, of which her sister, Diane, also was a member. Performing at parties and dances, the trio became one of the top female singing groups in the isles.

She was married to the late Nane Aluli. They had six children. Later in life, Aluli became involved in real estate sales while remaining active in church and community activities.


Aunty Irmgard passed away on October 4, 2001, just two months after she was honored as a living treasure by the Prince Kuhio Hawaiian Civic Club. In 1998, Aluli was inducted into the Hawaii Music Hall of Fame, the same year she was honored with the Hoku's Lifetime Achievement Award. Kahauanu Lake of the Hawaiian Music Hall of Fame called Aunty Irmgard a one of a kind who cannot be replaced.