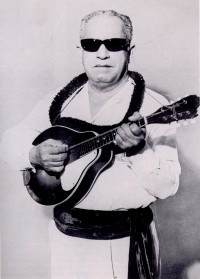 JOHN K. ALMEIDA
John Kamealoha Almeida was born in Honolulu and at the age of 15, formed a group called the Waianae Star Glee Club and they performed at luaus, church and social functions. He served as head musician on the Matson ships from 1924 to 1927, performed on Hawaii Calls, and in numerous nightclubs. He appeared at the Moana with his son Pua.

Johnny composed many memorable songs, including 'Holo Holo Kaa,' 'Green Rose Hula,' 'Maile Swing,' 'A Oia - That's It,' 'Yellow Ginger Blossoms,' 'Blue Carnation' and over 100 more. He recorded hundreds of singles for the 49th State Recording Co.

Called 'The Dean of Hawaiian Music,' he was born suddenly while his mother was picking maile and the sap from the plant caused his blindness. His vast knowledge and understanding of Hawaiian music led many to his door. Tributes from his pupils continued for years.



Biographical material from Tony Todaro, The Golden Years of Hawaiian Entertainment (Tony Todaro Pub., 1974).