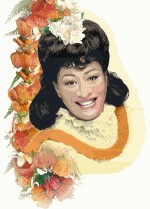 KAREN KEAWEHAWAI'I
Although inspired by her parents, Winona Kahaleohu Holokai and John Ka'önohiokala Keawehawai'i, who were part-time professional entertainers, Karen's passion for music first took shape in her early years as a member of her church choir.

Karen's career began with The Kaleos during her senior year at Farrington High School and the Laughing Kahunas her freshman year at the University of Hawai'i. Veteran entertainer Al Harrington asked her to join his show as the featured female vocalist. It was not until she could secure a contract for her group where they performed that Karen began the rigorous three-year, two-show-a-night commitment at the Hilton Hawaiian Village Dome.

For nearly a decade the Kahunas played casual gigs at first, then appearing at Yokos, the C'est Si Bon at the Pagoda Hotel, then finally at the Kahala Hilton's Hala Terrace.

After the death of her mother in 1974, she was devastated and quit performing. Her husband Jackie helped her to return to her music; put together a trio called Kaleolani and had Karen trade in her tears for laughter at the Buccaneer Restaurant. Soon after, she began her stint with Al Harrington.

In 1978 she recorded her first solo album, Karen that included her father singing his composition "My Yellow Ginger Lei." The album, dedicated to her mother was changed to include her father who passed away on Christmas Eve that year. The album was released in 1979.

She won her first major music title in 1980 capturing Most Promising Artist at the Na Hoku Hanohano Awards. Three years after her Rhythms of the Islands album earned her the designation of Female Vocalist of the Year by the Hawai'i Academy of Recording Arts, an honor that re-visited her in 1984. In 1993, she won the Entertainer of the Year award from Honolulu Magazine.



Karen's full biography from her website.