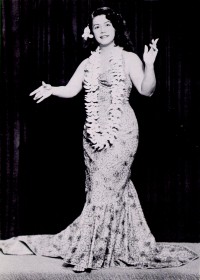 LEILANI ALMEIDA
Wife of famed singer/steel guitarist/bandleader Pua Almeida, Leilani Maria Anna Almeida was born in Honolulu. At the age of 4 she danced for President Roosevelt at the opening of Ala Moana Park and was the solo dancer for Princess Kawananakoa's official receptions.

She danced with Alfred Apaka, Keaka Kanahele, Tom Hione, Harry Owens at the Royal Hawaiian, and later with Aggie Auld at the Royal. She performed at Lau Yee Chai's and spent 2 years at the Seven Seas in Hollywood. Another 2 years with Hilo Hattie led to a tour of Japan with her father Pua. She performed in Ed Kenney's show at the Hawaiian Village's Tapa Room and choreographed and danced for the Lucky Luck Shows. She did extra work in the film Hawaii and appeared in the TV series Hawaiian Eye.



Biographical material from Tony Todaro, The Golden Years of Hawaiian Entertainment (Tony Todaro Pub., 1974).