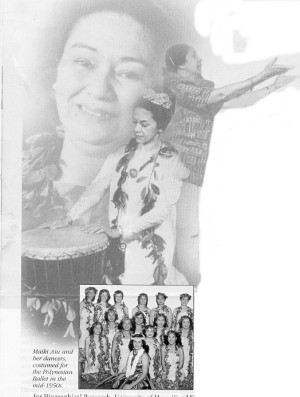 MAIKI AIU LAKE
Known far and wide for her master classes for kumu hula, Aunti Maiki first studied with Lokalia Montgomery. In her lifelong mission to bring back study of the ancient hula, she also worked with Iolani Luahine, Pua Haaheo, Alice Namakelua, Vickie Ii Rodrigues and Mary Kawena Pukui.

She opened her first hula studio, Margaret Aiu's Hula Studio, in the late 1940s. In 1952, her teachers permitted her to use the term 'halau'--the first time in many years the term had been used. Maiki welcomed all to her halau, and was instrumental in bringing male dancers back to the hula. During all this, she consistently performed at Waikiki nightspots, and she saw night club hula and ancient auana and kahiko styles of dancing as all part of the whole.

In 1972, Aunti Maiki conducted her first master class of kumu hula. Each student went through a rigorous ukiki and they were judged by Maiki's own teachers. Though only one student, Hooulu Cambra, was promoted that first year, Maiki graduated many of the most distinguished kumu hula in Hawaii today, including Coline Aiu, Karen Aiu, Robert Cazimero, Mapuana de Silva, Leinaala Kalama Heine, Milton I, John Lake, Momi Aarona Kepilino, George Maile, Kalena Silva, Victoria Holt Takamine and John Kahai Topolinski.

Aunti Maiki is profiled in the first of KHET's Biography Hawaii programs, premiering on November 20, 2002.