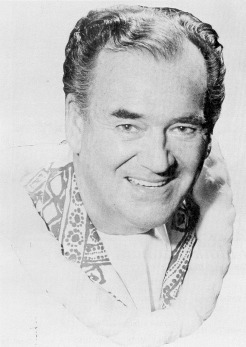 PAUL PAGE
Born in North Vernon, Indiana, Paul Page became a well-known composer/musician/singer/poet as he spread Hawaiian music and culture over the mainland and in Hawaii.

While a disc jockey in Juneau, Alaska, he went to work for NBC in Chicago as an artist. His musical career took off after a rendition of "My Isle of Golden Dreams" on Don McNeil's famous Breakfast Club radio show. After that, he formed his own Polynesian orchestra. In the war years, Paul hosted a Polynesian radio show in southern California, and composed nearly a hundred island songs.

In 1966, he finally made it to Hawaii, where he played piano at the Pagoda Floating Restaurant, the Tahitian Lanai, and his band performed at the Ilikai, Hilton Hawaiian Village, Ala Moana Hotel and Del Webb's Kuilima on the North Shore of Oahu.

His compositions include "The Big Luau in the Sky," "Castaway," "Christmas in Paradise," Maui Mele," "Pacific Paradise," " Ports of Call" and "Ala Wai Blues."



Biographical material from Tony Todaro, The Golden Years of Hawaiian Entertainment (Tony Todaro Pub., 1974).