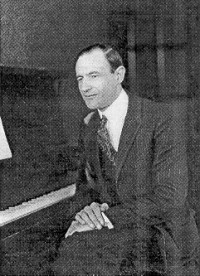 WALTER SMITH


Walter Smith - Songwriter, Pianist

Composer, lyricist and accomplished pianist, Walter Smith first published around 1914. Songs like "Dreamy Moon," "While the Incense is Burning" and "Don't Sing Aloha When I Go" built a steady fan base. Smith was hot, pumping out hit tunes and selling them to publishers like Villa Morét, Sherman Clay and Daniels & Wilson. Sheet music, Piano rolls and records containing songs written by Smith were top sellers. His career was at its peak in the late teens and twenties with ongoing club appearances at the piano performing his own music. Fans followed him from one engagement to the next, from the Palace to the Cliff House, from the Fairmont and the St. Francis to dives and speakeasies on the Barbary Coast. He was a radio show regular on stations KJBS and KFWI in San Francisco in the middle and late 1920s. He often played fill-in for name bands.

Glen Miller asked Smith to join him on a road tour in the early 1930s. Although he steadfastly refused to go on the road, he remained a local celebrity. He wrote and copyrighted well over 200 songs, most during his early years with more than 70 known to be in publication and available today.

He also published a book in 1922 titled The Walter Smith Course of Jazz Piano Playing in Eight Lessons.

Born on January 16, 1885, Walter Smith was a second generation native of San Francisco. His mother, Rachel Reuben, was born to middle-class Jewish immigrants. She studied music, mastering the harp. His father, Josef Vlad Seibert, a Russian immigrant, gained his US citizenship via the 1867 Alaska Purchase Treaty. Seibert took the name William Smith when he obtained U.S. citizenship.

Smith studied music as a child and learned the piano under his mother's tutelage. Music was an integral part of their family. His older brother Benjamin went on to play violin in symphonies from San Francisco to New York while brother Arthur played the Base Trombone locally. Their mother died in 1899 when Smith was fourteen. On the death of their mother, Walter and his younger brother Arthur boarded at Bishop Scott Academy in Portland. They attended the academy for two years before returning home to San Francisco. By then, his father had quit his job and wanted his son Walter to work the mines with him in the Tehachapi area, digging for gold. To encourage him, the senior Smith gave his son Walter title to a productive claim but Walter's only interest was music. He deserted the mine and his father, playing piano in bars and taverns at the age of 18. His skills kept him employed and allowed him to begin composing music and writing lyrics.

Smith married Ruth Elizabeth Coats, a California native of Scotch-Irish descent in 1916. A tavern in Alviso near San Jose offered steady engagements and Miss Coats had followed him there from San Francisco. She was 19; Smith was 31. Her sisters berated her for the remainder of her life for marrying Smith, a Jew, but she adored him until her death. Their one child, Robert William Smith, was born October 22, 1922 in San Francisco.

The depression took its toll on Smith as a writer. He remained prolific but the market of the `30s & `40s was hard. He sold songs to publishers who released them under the names of other authors who were selling well. Needless to say, he received no royalties on those. He taught piano at San Francisco State College under the WPA [President Franklin Roosevelt's depression-era Works Progress Administration--a jobs program]. Though never impoverished, the good times were over.

With his name tarnished and membership in ASCAP eluding him, Smith was unable to find anyone who would publish his songs. He took on the nom de plume of Josef V. Seibert, his father's name prior to becoming a citizen. His last known published piece was "Some Fine Morning," released in 1952. That song was moderately successful and still draws small royalties.

While he never used alcohol, Smith developed the shakes in the early 1950s making it tough to get engagements. Though not formally diagnosed, one doctor told him he had Parkinson's disease. It grew progressively worse through his later years. By the late 1950s, he could barely play the piano. He still maintained a few friends and followers. Sometimes he tutored music students. Smith wrote the campaign song for San Francisco Mayor George Christopher, "Let George Do It," but by then, his career was over. He died on March 31, 1968 of colon cancer in the city of San Francisco, 20 days after his son Robert died of lung cancer. Ruth, his wife died the following year.

Walter Smith left the rights to his music to his grandchildren; a legacy per his claims. While out of date and producing few royalties, Smith was right.



Mahalo nui to James Smith for so generously supplying this information on his grandfather, Walter Smith. The material is © 2002 and is used by permission.