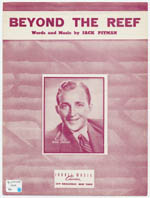 BEYOND THE REEF

© 1949
Lyrics & Music: Jack Pitman

Sheet Music:
In Aloha Hawaii (c.1966, Charles Hansen Ed. Music & Books)
Recordings:
CD: Numerous

Beyond the reef,
Where the sea is dark and cold,
My love has gone,
And our dreams grow old.

There'll be no tears
There'll be no regretting,
Will he remember me;
Will he forget?

I'll send a thousand flowers,
When the trade winds blow;
I'll send my lonely heart,
For I love him so.

Some day I know
He'll come back again to me.
'Til then my heart will be
Beyond the reef.


Mahalo to Larry W. Jones for the image of the sheet music for this song.


---

Click on the first letter of song title for index





---

Website ©2000, designed and maintained by