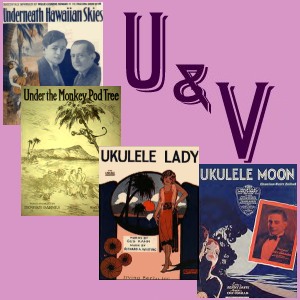 Click on any underlined song title

U`I LANI (1962) Lena Machado
UKULELE ISLAND Tony Todaro, Mary Johnston
UKULELE LADY (1925) Lyrics: Gus Kahn, Music: Richard A. Whiting
UKULELE MOON Lyrics: Henry Hayes, Music: Con Conrad
UNDER THE MONKEYPOD TREE (1927) Benham Barnes
UNDER THE MOANA BANYAN TREE (1935) Al Jacobs & Johnny Noble
UNDERNEATH HAWAIIAN SKIES (1920) Lyrics: Fred Rose Music: Ernie Erdman
UNDER THE UKULELE TREE (1926) Lyrics: Mort Dixon; Music: Ray Henderson
U.S.E.D.

VALLEY OF THE RAINBOW (1951) Keaumoku Louis
VOICE OF THE TRADEWINDS (1949) Harry Owens

If you can supply the lyrics for any incomplete song or one not underlined, please e-mail Aunty Sylvia. Mahalo.


Click on the first letter of song title for index
Website ©2002, designed and maintained by