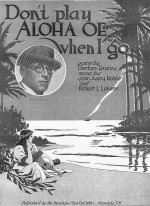 DON'T PLAY ALOHA OE WHEN I GO

© 1923
Poem: Berton Braley; Music: John Avery Noble, Robert L. Lukens

Braley's photo is on the cover of the sheet music.

Sheet Music: Honolulu Star- Bulletin, Honolulu, T.H.


Recordings:
CD:

Don't play Aloha Oewhen I go
For it tears the very tissues of my heart
There is mist upon my glasses as the ship from harbor passes
And it isn't very easy to depart

If the mountains seem a little vague and dim
It's the film before my eyes that blurs them so
Have a little human pity as I leave this magic city
Don't play Aloha Oe when I go

Don't play Aloha Oe when I go
As the ship is heading out to open sea
Don't you know my heart is aching as I watch the white surf breaking
On the coral reef that fringes Waikiki?

I am trying hard to simulate a smile
I am fighting back the tears that seem to flow
Let me sail in manly fashion, have a bit of true compassion
Don't play Aloha Oe when I go

Don't play Aloha Oe when I go
It is just a little more than I can bear
Must my consciousness be freighted, must my sould be lacerated
By that throbbing sobbing cadence on the air?

There's a lump I cannot swallow in my throat
There's a pain within my breast that seems to grow
Call 'Aloha' so I hear it but be merciful of spirit
Don't play Aloha Oe when I go.


Source: sheet music in the Bishop Museum archives.

---

Click on the first letter of song title for index





---

Website ©2002, designed and maintained by