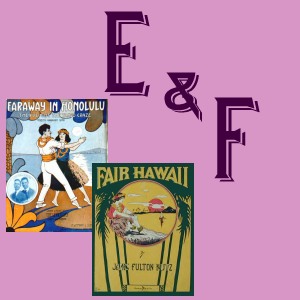 Click on any underlined song title

E KUU ALOHA (MY LOVED ONE)
E NAUGHTY NAUGHTY MAI NEI Mel Peterson
EATING OF THE POI (1888) traditional
ECHOES OF HAWAII
EIGHT BELLS, Johnny Noble & ?
EV'RYONE IS SINGING HAWAIIAN NOW (1936) Johnny Noble

FAIR HAWAII (1913) James Fulton Kutz
FAR AWAY IN HONOLULU (They've Got the Tango Craze) (1917) by the Leightons
FAREWELL (For Just a While) (1952) Lyrics: Jack Brooks Music: Eddie Lund
FINGERPAINTING Jack de Mello, Nancy Marsters
THE FIRST NIGHT OF THE FULL MOON (1940, 1964) Hal David, Alfred Kealoha Perry
FISH AND POI (1953) Jack Pitman, Bob Magoon, Jr.
FLOWER GIRL OF HILO BAY (1957) Danny Stewart
FLOWER OF PARADISE Tony Todaro, Mary Johnston
FOR YOU A LEI (1929) Johnny Noble

If you have the lyrics for any incomplete song or one not underlined and you'd like to share them, contact the website. Mahalo.


Click on the first letter of song title for index
Website ©2002, designed and maintained by