HAWAII CALLS

© 1935
Lyrics & Music: Harry Owens

Sheet Music:
Inside the sheet music, it says: "On the evening of Monday October 14, 1935, Webley Edwards introduced Harry Owens and his Royal Hawaiians in a shortwave radio broadcast originating in the Royal Hawaiian Hotel in Honolulu..."



Recordings:
LP: Hilo Hawaiians Honeymoon in Hawaii
CD: Numerous, including: The Hilo Hawaiians, The Invitations, Karen Keawehawai'i, Maile Serenaders, Marlene Sai, etc.
A nice rendition by Pua Almeida is on Hawaii Calls Presents Blue Hawaii: The Most Requested Songs of the Islands (Hula Records CDHCS924A)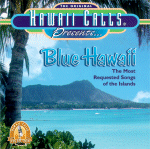 Hawaii calls
With a melody of love, dear,
Across the sea as evening falls;

The surf is booming on the sand
At Waikiki tonight
And how I wish that you were strolling hand
In hand with me tonight;

Hawaii calls
With a message of aloha
To you sweetheart,
Where e'er you are,

Reminding you to dream awhile
Of happy days we knew;
Hawaii calls
And my heart's calling too.

This song was written as the signature song of the long-running radio and TV show, Hawaii Calls. The show was broadcast from the Banyan Court at the Moana Hotel, hosted by Webeley Edwards and over the decades, starred nearly every singer, musician and dancer of any merit in the islands. Many would go on to become legends in their own right.



---

Click on the first letter of song title for index





---

Website ©2001, designed and maintained by