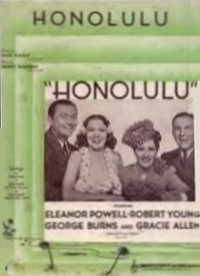 HONOLULU

© 1939
Lyrics: Gus Kahn Music: Harry Warren
From film Honolulu, starring Robert Young, Eleanor Powell, George Burns and Gracie Allen

Sheet Music:


Recordings:
CD:

Honolulu

I'm on my merry way
I'm on my holiday
I mean
I'm on my way to Honolulu

The days just drift along
The nights are filled with song
I hope
I can't go wrong in Honolulu.

I bought a ukulele
I practice on it daily
It sounds wicky-wacky- waily
My hula-hula song

I know it's gonna be
An awful blow to me
If I
Don't find romance in Honolulu

I know just hot it looks
In the pretty picture books
So please,
Don't disappoint me Honolulu
My Honolulu, - by the coral sea.


Mahalo to Gloria Herbert for these lyrics.









---

Click on the first letter of song title for index





---

Website ©2002, designed and maintained by