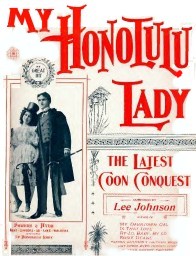 MY HONOLULU LADY

© 1898
Lyrics & Music: Lee Johnson

Note: The sheet music calls this song "The Latest Coon Conquest." Coon songs were songs performed by white men in black face (as in minstrel shows and Al Jolson's work).

Sheet Music: Zeno Mauvais Music Company (San Francisco)


Recordings:
CD:

DESCRIPTION:
The music begins as a schottische, followed by a chorus, and then a 16-bar section called "Hawaiian Pas-ma-la" which is another term for cake walk.

The singer has decided to leave his Alabama girl for Honolulu Lou. Then he's going back to Alabam and "show dem coons and wenches style and grace that is divine, when we both pass down de line.... We cut de pigeon wing, de coons did shout and sing, when we did de Honolulu Pas-ma-la. Den we glided by de judge's stand; de coons and wenches sighed. When my Lou she took first prize."

Anyone who has the complete lyrics of this song and would like to share them, please contact Aunty Sylvia. Mahalo.


---

Click on the first letter of song title for index





---

Website ©2001, designed and maintained by