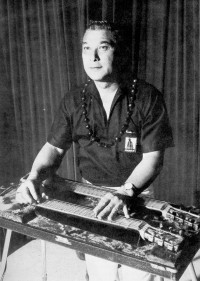 PUA ALMEIDA
Charleston Puaonaona Almeida was born in Honolulu into what would become one of Hawaii's great musical families. Under the guidance of his father John, Pua became a virtuoso steel guitarist, composer, arranger, singer, band leader and consumate musician. He played all the local clubs before the war--Pago Pago, Ramona Cafe, then USO shows with Buddy Peterson and Randy Oness, and work on radio station KGMB. After 1945, he performed at the Moana Banyan Court for a dozen years with his group The Sunset Serenaders, and performed on Hawaii Calls for 17 years.

Pua, like Alfred Apaka, had a bad heart, and passed away in 1974, one of the mostly unsung greats of Hawaiian music in the 20th century. His generosity and humility as a performer, friend and mentor led many others on to greatness. Fortunately, many of his hundreds of recordings live on.



Biographical material from Tony Todaro, The Golden Years of Hawaiian Entertainment (Tony Todaro Pub., 1974).