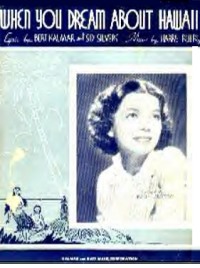 WHEN YOU DREAM ABOUT HAWAII

©
Lyrics: Bert Kalmar, Sid Silvers, Music: ?

Sheet Music:


Recordings:
CD:

When you dream about Hawaii
Don't forget to dream about the night we met
Will you feel my arms around you?
Will mem'ries cling echoing "I won't forget."

Will you hear the rippling waters as they kiss the silv'ry sands so playfully?
Will you hear me say "I love you"
To the tune of steel guitars beneath the stars at Waikiki?
When you dream about Hawaii dream of me.


Mahalo to P. R. for these lyrics.
---

Click on the first letter of song title for index





---

Website ©2001, designed and maintained by