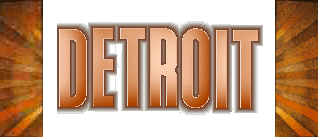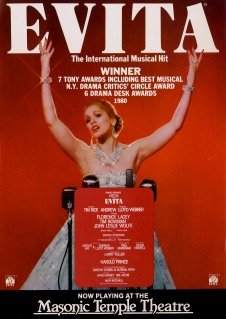 4TH NATIONAL COMPANY
Detroit: Masonic Temple Theatre February 27, 1982 and points beyond

NOTE: Most of the early Evas and Alternates played in multiple companies. Florence Lacey has played the role more than any other actor. She was the alternate in the 1st National Company (Los Angeles) for a year, she headed her own company, the 4th National, beginning in Detroit and blanketing the country(click here for the punishing schedule). When Loni Ackerman left the Broadway company, Flo took over there and was the last Evita to play the Broadway Theatre.

She then did the show in a number of places including the Ahmanson Theatre in Los Angeles in 1986.

Finally, she headed the only World Tour of the show (in English) and became the only other American Eva to make a cast album besides Patti LuPone.

Thus, there is some confusion as to where to place the divine Miss Flo, and so we're compromising and doing both Detroit and the World Tour under one heading since she originated both companies.

Unfortunately, photos from both are in short supply, and we're filling in with some candids of her in several Evita costumes (only without the wigs).
CAST Eva--FLORENCE LACEY
Che--TIM BOWMAN
Peron--JOHN LESLIE WOLFE
Magaldi--VINCENT PIRILLO
Mistress--PATRICIA LUDD
Alternate--PATRICIA HEMENWAY

The People of Argentina: Marianna Allen, R. Michael Baker, Scott Bodie, John McCool Bowers, Laurie Crochet, Mark Dovey, Diane Duncan, Lynn East, Mark East, Mark East IV, Donna Marie Elio, Kerry Finn, Joanna Glushak, Thomas Scott Gordon, Curtis Gregory, Michael Hansen, Patricia Hemenway, Ken Miller, Jeff Mooring, Marilu Morreale, Ron Rusthoven, Lynn Sterling, Robert Torres, Kathy Vestuto, Sam Viverito, Kenneth H. Waller, Don Wonder.