Commentary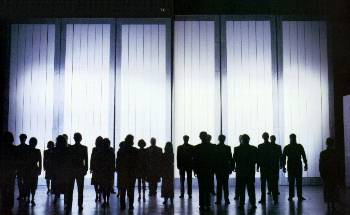 London's Chess was still selling out as everyone prepared for Broadway. Even had it been perfect, the Prince Edward Chess could not be duplicated in New York; it would have cost more than $15 million to replicate the sets, costumes and staging. It's also unlikely Trevor Nunn would have agreed to duplicate his London work--he wanted to do his very own Chess from scratch. Tim Rice was optimistic, "Trevor Nunn will, of course, still direct which is good news." Rice proceeded with the rewrites. "I am making some fairly hefty alterations to the storyline (for example the first half of the show now takes place in Bangkok, the second in Budapest) and we aim to include at least two new songs. Very few of the current songs will be booted out--the changes are primarily with the bits in between, which will include a good deal more dialogue. In this way, we hope to make the plot clearer and the character of Freddie, in particular, more rounded. At the moment he fades out in Act 2."

Everything had to wait for Nunn, who had prior commitments to direct both Les Miserables and Starlight Express in New York. Nunn finally gave the producers a small window before and after which he would be unavailable.

Rice sent his revised script to Nunn and the Shuberts' Bernie Jacobs long before their first New York meetings but had had no response from anyone. During the first casting sessions in New York, no one mentioned the rewrites. Still, Rice had no reason to worry, and was not in the habit of making waves. Yet the casting sessions should have given him a hint. Trevor spent a great deal of time seeing actresses to play Florence, though Tim thought Elaine Paige was set to reprise her London triumph.

Rice also knew that Richard Nelson--an avant garde political playwright--had been asked to "present some ideas." It wasn't until Bernie Jacobs, Trevor Nunn and Robert Fox were rushing for planes to three continents that Rice was bluntly informed that Nelson's script had been completed and accepted. No comment was ever made on his own rewrite (which would eventually triumph in Sydney several years later).

Politics were in evidence both on and off the stage. Nunn was determined to have Florence not only be an American in this version, he wanted her played by one. Laurie Beechman (who starred in Rice's Joseph and the Amazing Technicolor Dreamcoat) and Judy Kuhn (New York's original Cosette in Les Miserables) were Nunn's favorites. But what about Elaine?

American Actors Equity was still bruised from its most recent Anglo-American confrontation. Andrew Lloyd Webber had threatened to pull Phantom from Broadway (and put 125 union members out of work) if they didn't allow his wife Sarah Brightman to play the role he had written for her. Hal Prince led an eventually successful campaign backing Lloyd Webber and Brightman.

Rice had, of course, written Florence for Elaine Paige and she was a much more well-known star than Brightman. Tim said that some time before this "Bernie Jacobs assured me there would be no problem" getting Elaine over. Yet a member of the Equity Committee quotes Bernie Jacobs at one of their meetings, "If anyone's coming, it's the Swede [Tommy Körberg]." Nunn offered no support and Rice withdrew Elaine's application.

The show was new from top to bottom. A new logo replaced the esoteric but elegant fractured chessboard of London. It de-emphasized the game, highlighted the political context and looked vaguely like the cover on a 1960s-vintage spy novel. The cast had only a few dancers and there was little choreography. Nunn had Robin Wagner design a turntable very like the one in Les Miz and a dozen radio-controlled triangular concrete-faced towers that moved; six of them were as high as the proscenium arch. These towers were grim in the extreme. They resembled nothing so much as penitentiary walls and there were perilous moments at previews as the operators inside them lost control and one nearly fell into the orchestra pit. Throughout the run, audience members in the first 10 rows could hear the men inside them speaking into their headsets as they lost orientation.

Opening in April 1988, Chess was no longer nearly through-sung. It was now a show with songs. And it no longer looked vibrant and interesting. The mood for the whole show was cold. Oddly, despite the abstract towers forming and re-forming as vague indications of hotel rooms, parking garages and the grim streets of Eastern Europe, Nunn used realistic sound effects including traffic noises, elevator bells and dogs barking. The costumes were dark and drab, as was the physical look of the company--there was only one blonde. The brightness and levity of Merano and the British Embassy were gone, as was the color and variety of the video screens.

The story was marginally clearer but even more complicated. Plus, the three principal characters were unlikable. The warming of the Cold War rested uneasily on the plot, particularly co-existing with the anachronisms of the punishment exacted on Anatoly's family, his KGB guards and the notion of exchanging spies. The Arbiter was played as a macho Greek (to imply Greek Chorus?!) and seemed completely extraneous (he became even more so when the "Arbiter's Song" was cut after opening night). The scenes between Florence and her father were shamelessly manipulative and the final outcome unbelievable since he was easily recognizable as the same actor from the prologue. Freddie's screaming and filthy, vicious cracks about Florence and Anatoly, Florence's groveling and Anatoly's weakness were problems even the strong performers couldn't overcome.

Despite this, Chess succeeded on several levels. The splendid new orchestrations by Anders Eljas made the music more timeless and theatrical, and the actors were flawless. Judy Kuhn literally stopped the show with "Nobody's Side" and a beautiful new song, "Someone Else's Story." David Carroll brought a different but no less powerful thrill to "Anthem," and the energetic Philip Casnoff gave Freddie what heart he could. Harry Goz and Dennis Parlato took Molokov and Walter beyond stereotypes and were the only comic relief.

The new songs were all good and blended seamlessly with the old. A wry, funny duet for Walter and Molokov (unfortunately not included on the American cast recording) was a nearly unrecognizable version of the "One Night in Bangkok" music, cleverly done up as a tango. "Apukad" used music from "You and I," while the Hungarian Folk Song was set to the music from Walter's theme in London.

But the biggest loss was London's incidental music--phrases used for occasional lines in the brief bits of actual dialogue and background music for every other moment of the show. Ulvaeus and Andersson's beautiful, emotional underscoring and use of themes for each character was lost, as was the subtle information imparted by this kind of music.

Tim Rice had essentially disowned the project before opening night. Though he had been initially hopeful and optimistic enough to invest $3 million of his own, he couldn't bear to watch it any more. "Those characters mean nothing to me. They aren't the ones I created." Tim's wife Jane was the only Rice in the audience opening night. Tim made a brief P.R. appearance at the post-show party and left early.

The critics despised nearly everything about the show. "Checkered Musical," "Chess Bored" screamed the tabloids. The TV critics were worse. They called the opening "A parody of Les Miz," said the music was "deafening" and "humdrum," the lyrics "godawful," the set "Stonehenge on wheels," the direction "busy," the story "incoherent" and "commonplace and third-rate." One thought Freddie was an "utterly and pointlessly hateful" character and another said Nelson's dialogue "makes The Guiding Light sound like Sophocles." Every review was prefaced by "the latest British import" or "Another British mega-musical."

Some observers thought Nunn wanted to go head-to-head with Hal Prince (who directed Phantom) in the Tony Awards--presupposing Nunn could win--but whatever the reason, Nunn had forced Chess to open in New York right before the Tony Awards, and on the heels of Starlight Express, Les Miserables and The Phantom of the Opera, all from London. The RSC's Carrie opened one week later, fresh from English tryouts. Being a British import was a death sentence that spring.

The only non-British musical hit that season was Anything Goes, a revival. Had the Americans lost their touch? Maybe not, but New York was in the middle of a wave of chauvinistic British-bashing. The heavy backlash against Andrew Lloyd Webber and Phantom's massive hype tarred his former partner with the same brush. Tim Rice was still inexorably linked to Lloyd Webber.

Audiences, however, greeted the show with great enthusiasm and there were nightly standing ovations and exceptional word-of-mouth, despite what most agreed was a pretty repellent second act. Many people felt that with Chess, Rice had at last stepped out from behind Lloyd Webber's shadow.

The Tony Award nominating committee pointedly ignored Chess except for Judy Kuhn and David Carroll. They, after all, were Americans. The musical and Trevor Nunn were not even nominated. The Awards snubbed the Brits where they could--Andrew Lloyd Webber lost the score and book awards to Stephen Sondheim's Into the Woods, though Phantom was named Best Musical.

By the end of May, Chess was breaking even but the lack of Tony Awards or exposure on the telecast was a blow. Despite the excellent word-of-mouth, advance sales dwindled. When the advance for the last week of June wasn't sufficient to pay expenses, the Shuberts closed the show. But Chess wouldn't die. The American cast album sold well and the show headed toward cult status, not unlike Sondheim's Merrily We Roll Along--another show with a great score and minor book problems--which was decimated by its directorial concept.

On the night of January 9, 1989, Chess was sung in concert at Carnegie Hall. David Carroll managed to assemble all but two members of the entire original Broadway Chess cast for this benefit concert in New York. The actors paid their own transportation from all over the world. They came from bus-and-truck companies of Cats, from national tours, from film locations and regional theatres, from European productions of Les Miz. The near sell-out crowd cheered the opening number with such incredible enthusiasm that the conductor turned around in shock. Though it was a benefit concert, the audience wasn't celebrity-filled or star-studded, simply 2800 people who wanted to hear Chess. It was proof that the score--unencumbered by any dialogue--was solid gold.