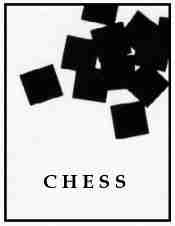 LONDON Prince Edward Theatre
Previews began 5 May 1986
(postponed due to technical problems from 30 April)
Opened 14 May 1986. Closed to tour 8 April 1989

3 Knights Ltd., The Shubert Organisation, Robert Fox, Ltd.
for Chess Productions Ltd. present

CHESS
the musical by

BENNY ANDERSSON - TIM RICE - BJÖRN ULVAEUS
NEW RECORDING
This production has finally been recorded, but not with the original cast. For information, see below. Cast
FLORENCE VASSY.............Elaine Paige
succeeded by Siobhan McCarthy, Grainne Renihan, Litsa Davies
FREDERICK TRUMPER................Murray Head
succeeded by Michael Howe, Anthony Head, Mark Bond
ANATOLY SERGIEVSKY..............Tommy Körberg
succeeded by David Burt, Leo Andrew
ALEXANDER MOLOKOV..............John Turner
succeeded by Kevin Colson, Eric Flynn, Chris Van Cleve
WALTER de COURCEY................Kevin Colson
succeeded by John Turner, Chris Van Cleve, Eric Flynn
THE ARBITER..............................Tom Jobe
succeeded by Christian Hughes
SVETLANA SERGIEVSKY............Siobhan McCarthy
succeeded by Ria Jones, Anne Smith
The Company - Aliki, Leo Andrew, Julie Armstrong, Yvonne Bachem, Julia Birch, Richard Courtice, Catherine Coffey, Anne Cox, Hugh Craig, Geoffrey Dallamore, Carol Duffy, Garrick Forbes, Wayne Fowkes, Philip Griffith, Peter Karrie, Donna King, Madeline Loftin, Patrick Long, Kim Lonsdale, Richard Lyndon, Richard Mitchell, Gail Mortley, Kerri Murphy, Mhairi Nelson, Anita Pashley, William Pool, Jane Powell, Grainne Rennihan, Richard Sampson, Jacqui Scott, Duncan Smith, Sandy Strallen, Suzanne Thomas, Sally Ann Triplett, Oke Wambu, Hilary Western, Paul Wilson

Directed by Trevor Nunn
Scenic Design by Robin Wagner
Costume Design by Theoni V. Aldredge
Lighting Design by David Hersey
Orchestrations and arrangements by Anders Eljas
Sound Design by Andrew Bruce
Executive Producers Judy Craymer, Gatchell &amp Neufeld Ltd.
Musical Direction by John Owen Edwards
Choreographer Molly Molloy




Synopsis and Musical Numbers
(click on song titles for lyrics and photos)

ACT ONE
The show begins with a danced chess match("The Story of Chess") with the cast dressed as ancient marble pieces. After the final moves, one of the Kings is revealed to be The Arbiter and he introduces the match and the players (who now have names) Frederick Trumper of the U.S. and Anatoly Sergievsky of the U.S.S.R. After a colorful glimpse of Alpine Italy ("Merano") and the media circus, we meet Freddie and Florence up close and personal, snuggling in their hotel bedroom while laughing at the press coverage("Frederick's Suite/Press Conference.") Things in Anatoly's room aren't as rosy as he reflects on his life ("Where I Want to Be"). The stakes are clear as the Russians and the Americans warily eye each other("U.S. vs. U.S.S.R.") in the Arbiter's Chambers, but the Arbiter lays down the law on politicking and player behavior("Arbiter's Song"). Via a blackboard, he chides the players not to indulge in "humming, political speeches, waving of flags, coded yogurt, whistling or garlic." The "Merchandiser's Song" introduces the thorny issues of sponsorship, money and greed. Despite the Arbiter's instructions, the first games are ruined by both players trying every stunt possible to destroy their opponent's concentration and Freddie finally stalks out. The remaining parties discuss the lack of decorum in chess in the "Quartet (A Model of Decorum)." Florence yells at Freddie for being a fool and he accuses her of Soviet leanings. She declares she's on "Nobody's Side." That night, Florence arrives at the Merano Mountain Inn, which is filled with a lively crowd ("Der Kleine Franz")and goes outside and eventually discovers Anatoly on a romantic Alp. Freddie fails to show for the reconciliation and she realizes she's very attracted to Anatoly ("Mountain Duet") . Meanwhile, Freddie has negotiated new contract terms and he'll continue the match because he's going to get a pile of money if he does. But Florence leaves him and he wallows in self-pity ("Pity the Child"). Anatoly wins the match and when he defects, he and Walter wrangle with the Embassy idiots ("Embassy Lament"), while Florence worries about what she's leaving behind and what she's facing ("Heaven Help My Heart") . As the press tracks Anatoly down, Florence's love seems to fill the hole in his expatriate's heart ("Anthem").

ACT TWO
The "Golden Ballet" tells us we're not in the Alps any more. It's one year later and we're in Bangkok. Freddie celebrates his non-involvement ("One Night in Bangkok") in the game--he's now a TV reporter--while Anatoly defends his title against the newest Soviet champ, an emotionless chess-playing machine. His idyll with Florence is interrupted ("You and I") and finally wrecked by the outside world and its politics--and the news of his wife's arrival in Thailand. Molokov and his comrades humorously try to distract their player ("The Soviet Machine"). Freddie confronts Anatoly in a live TV interview and raises some questions Anatoly doesn't want to answer. Molokov increases the pressure by bringing in Anatoly's estranged wife, Svetlana, to the TV studio. Molokov then offers to reunite Florence with her long-lost Hungarian father if she'll convince Anatoly to return to Moscow, but she refuses ("The Deal"). Svetlana and Florence both contemplate the man they love in "I Know Him So Well." Anatoly plans to lose so Florence can be reunited with her father, but Freddie convinces him that principles are more important ("Frederick and Anatoly"). In "Endgame," everyone has something to lose if Anatoly wins. He does win but then announces he'll return to Moscow. Florence makes the ultimate sacrifice and gives up the man she loves ("You and I"), but it's all meaningless: Walter says they haven't found her father at all--it was just a game. Her cry of anguish, a reprise of "Anthem," ends the show.

The complete London version, with all music as listed above, has at last been recorded in a studio with a full cast.
CHESS: Complete Cast Album
From the Danish 2001/2002 tour
Scanbox #81851
Anatoly Sergievsky - Stig Rossen
Florence Vassy - Emma Kershaw
Frederick Trumper - Zubin Varla
Arbiter - Michael Cormick
Alexander Molokov - Simon Clark
Svetlana Sergievskaya - Gunilla Backman
Walter de Courcey - James Graeme

The orchestrations are the original London ones, the whole show is well-sung, with superb diction. The style is generally the same as the original London cast, with slight variations. The booklet does not have production photos, unfortunately, just a few costume designs and photos of the principals in the studio. No libretto is included (but it can be downloaded from this site).